TNN | May 21, 2023, 07.51 AM IST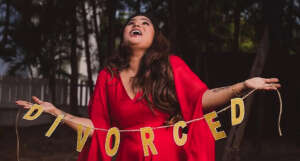 Clad in a bright-red dress and wearing a wide smile, actor and fashion designer Shalini shared a bunch of viral photographs on her social media two weeks ago. However, it was not the dress or the smile that caught viewers' eyes. It was the letters she held in her hands, which spelled D-I-V-OR-C-E-D. In the caption, she wrote: 'A divorced woman's message to those who feel voiceless. It's okay to leave a bad marriage because you deserve to be happy and never settle for less, take control of your livesand make the changes necessary to create a better future for yourself and your children'.
The photographs from the country's first divorce photoshoot stirred up quite a storm. India, after all, is a country where divorce is still considered taboo, and the rates for it hover around 1%, among the lowest in the world. However, several women like Shalini are now reclaiming their new lives.Moving on with a divorce-versary

In January, for instance, copywriter Shasvathi Siva celebrated the fourth anniversary of her divorce online. Unlike the portrayals of divorce as a rupture of a relationship, she termed it as a day of freedom. "No divorce is easy, but at the end, you do feel like this is life 2. 0," Siva says. The desire to talk about the divorce openly also stemmed from the stigma and loneliness she felt while going through it herself.
While her parents and friends were around, she also craved the support of other people who had been through similar journeys. "I felt really alone through the process of being in court, figuring out my layers of emotions. I was actively looking for a support group, but I didn't find anything. " As a result, she formed a support group for divorced women in 2019, allowing them to meet and share their stories in cafes, terraces, and on walks. When the pandemic hit, the group went online. Today, it has about 650 participants and operates mostly on Telegram.
Enter the uncoupling coach

While support groups play a key role in helping women navigate their way through divorces, there are also 'coaches' coming up to aid them in the same. One such example is Dr Suchitra Dalvie, who is India'sfirst certified 'conscious uncoupling' coach. Popular as the 'Divorce Doctor' on social media, Dalvie trained under New York-based marriage therapist Katherine Woodword Thomas, who devised the fivestep process in 2009. Widely popular in the West, the process was most famously used by Gwyneth Paltrow during her separation from Chris Martin. For Dalvie, who ended a 30-year marriage two years ago, the model allowed a journey of healing and self-reflection.
"Till now when you say the word divorce, the image that comes to mind is some kind of a violent tearing apart, something which leaves everybody miserable, angry and traumatised. Conscious uncoupling seeks to change that," Dalvie says.
The aim, she adds, is to help people process their grief, find emotional freedom, and move towards finding a 'happily even after'. It lasts typically five weeks, aiming to help people find agency over their decision making, and break patterns of dependency and abuse. Dalvie has also written a guidebook for women titled 'Roadmap to Managing Divorce'. In it, she has listed bite-sized advice and information that couples going through a divorce can use. "A divorce is often so overwhelming that people going through it are confused about how to go about it one day at a time," she points out. In order to help, the guidebook lists down essential questions to keep in mind, financial documents that must be in order, and things to do for the children's safety, if needed.
Support system

Despite access to support groups and therapists, a key hassle that divorce litigants face is access to quick and inexpensive legal aid. In order to address this, advocate Vandana Shah, who herself had been a divorce litigant once, is planning tolaunch an app in September. Named 'Divorce Kart', the app first began as a helpline for people stuck in bad marriages during the pandemic. Run as a prototype for years, the app will soon be available for the public. "One of the reasons for setting up the app is to provide instant legal guidance to people," Shah says.
Shah acknowledges that the needle on the conversations around divorce is turning, albeit slowly. However, she adds that the push will have to come from the judiciary. For instance, the recent Supreme Court judgment that allowed for the possibility of granting divorce on grounds of 'irretrievable breakdown' and waiver of the sixmonth waiting period that couples had to undergo if they both wanted a divorce. Though it did state that divorce on the ground of irretrievable breakdown is not a right but a discretion to be exercised with great care, it's still progress. "Although the court has said that it depends on certain conditions, I'm happy at least the precedent has been set," she says.
Legal measures such as signing pre-nuptial agreements will also go a long way in easing the divorce process, she adds. However, in India, there has been considerable resistance to it, as marriage is considered a sacred union and not a contract. Currently, Goa is the only state that recognises the legality of pre-nup agreements.
"Instead of saying that divorce is part of a woke culture and an evil concept, we must see it as a practical concept. We can't be on a black and white TV in an age where you stream your content," says Shah.
While Dalvie welcomes the Supreme Court judgment, she adds that an overhaul of laws pertaining to maintenance and alimony is needed as well. "Right now, it is only about the husband having to make sure the wife doesn't become destitute. Moreover, adultery hampers the wife's chances of getting alimony."
Meanwhile, women are fighting for the dignity of divorced persons in their own ways. For some, they're taking the forms of blingy photoshoots. For others, support groups and apps.